2400 Crofton Blvd.
Crofton, MD 21114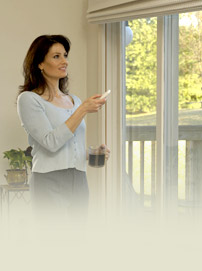 WHY RIGHT TRACK
When searching for a fabricator of high quality window treatments, the ability to provide a wide selection of products and fabrics, quick turnaround on orders, and superior customer service are very important. Add vast experience and a long record of satisfied clients and you are describing The Right Track. For over 20 years, The Right Track has provided a full range of motorized and manual window treatments, and in the process, has grown from a small regional company to an industry leader.

Blending cutting edge technology with the latest window fashions has become a hallmark of our operation. While manual treatments represent a sizable part of our business, few companies can match The Right Track's comprehensive understanding of window coverings and the methods available to automate them. The result is a seamless weaving of style and function. Our expertise allows you to offer your clients the most sophisticated and convenient methods of controlling their window treatments while relying on our turnkey fabrication service.

From conference rooms to conservatories, from skylights to solariums, from libraries to living rooms, The Right Track provides complete solutions to all of your residential and commercial window treatment needs.






The highly popular Panel Track is a stylish way to cover sliding glass doors and walls with multiple windows. It can also function as an attractive room divider.
Learn more >